US Thin Yellow Line Flag for FlagPole Car Boat Garden
Product Detail
Product Tags
Option of Thin Yellow Line flag or banner option
| | |
| --- | --- |
| Flag of Thin Yellow Line 12"x18" | Flag of Tow Truck Driver 5'x8' |
| Flag of Thin Yellow Line 2'x3' | Flag of Tow Truck Driver 6'x10' |
| Flag of Thin Yellow Line 2.5'x4' | Flag of Tow Truck Driver 8'x12' |
| Flag of Thin Yellow Line 3'x5' | Flag of Tow Truck Driver 10'x15' |
| Flag of Thin Yellow Line 4'x6' | Flag of Tow Truck Driver 12'x18' |
| Garden Flag of Thin Yellow Line | Boat Flag of Tow Truck Driver |
| Car Flag of Thin Yellow Line | Hand Weaving Flag of Tow Truck Driver |
| Cushion with Thin Yellow Line LOGO | APRON with Tow Truck Driver LOGO |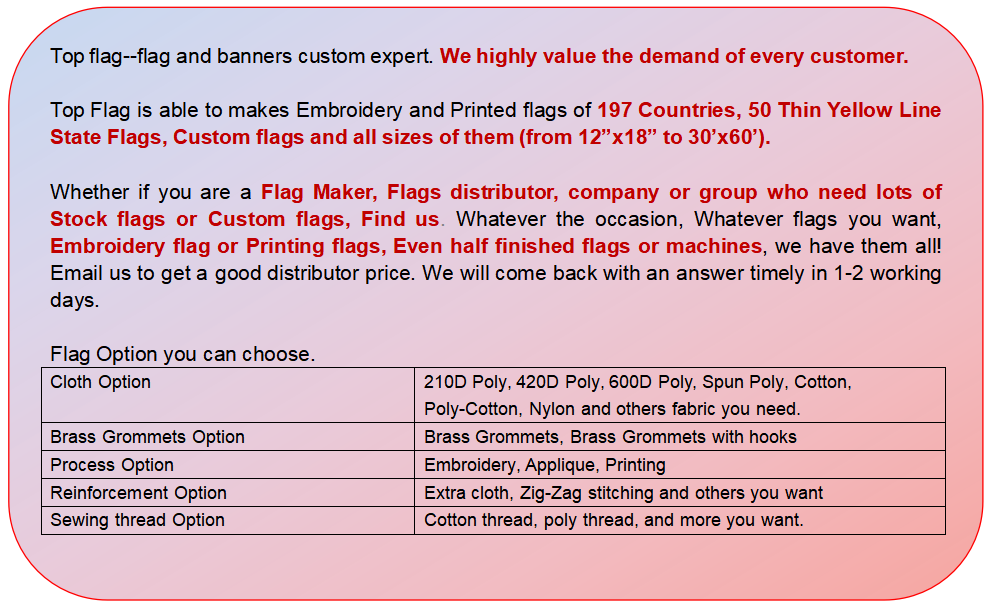 Below Is Description Of Flag Of United States of America 210D polyester
• HIGH QUALITY. Made from DURABLE NYLON, thin yellow line flag for outdoor and indoors. TWO STRONG brass GROMMETS for hanging on a pole or displaying indoors. Heavy-duty nylon canvas heading with STRENGTHENED BY DOUBLE STITCHING allows flying your loss prevention American flag proudly in RAIN, SNOW, and SUNSHINE! PROUD to be a LOSS PREVENTION OFFICER!
• The yellow line American flag offers lustrous beauty. Deep yellow RICH VIVID COLOR made by SKILLFUL WORKMANSHIP. The SHARP AND BRIGHT single yellow line on the black-white canvas! WHITE STARS EMBROIDER Yellow using a densely filled thread count for a magnificent presentation with sewn stripes. 4 rows of lock stitching to improve durability, increase flag life and prevent fraying. Your "Proud to Serve" to personalize thin yellow line American flag with unique loss prevention DISPATCHER DETAILS.
• PERFECT PROUD TO SERVE ITEM for your patriotic family HOME, GARDEN, PORCH, OFFICE, INDOORs or on the LAWN OUTSIDE. Embroidered Yellow stars and stitched stripes make thin yellow line American flag great for a gift for loss prevention officers on their birthday, wedding day, during gift-giving holidays, or when it is time for retirement. Ideal for NATIONAL HOLIDAYS! Made to last and to be used on each national holiday all year round.
• Nothing but the best for your AMERICAN PRIDE! You would receive a QUALITY loss prevention yellow line FLAG. When you buy the loss prevention flag - you SUPPORT THE PEOPLE who are sworn to serve and protect our great nation's, our freedom, and our future. It is hope and belief! Our dream lives on as we RESPECT the virtues of our founding fathers with the thin yellow line flag. This product is imported and contains 100% Nylon fiber.
---
---
Write your message here and send it to us